Welcome to our website
If it is important that we have the Bible, then it is important that we understand it
(Ephraim Currier, 1841)
.

The proper context for interpreting the Bible is the context of the biblical writers - the context that produced the Bible. Every other context is alien to the biblical writers and, therefore, to the Bible. Yet there is a pervasive tendency in the believing Church to filter the Bible through creeds, confessions, and denominational preferences.
Dr. Michael S. Heiser
Author of "The Unseen Realm: Recovering the Supernatural Worldview of the Bible"

The Bible does not need to be rewritten - it needs to be reread.
---
Free E-Books
Our free e-books in a special enhanced pdf format can be downloaded from the Downloads page. For regular ebook formats (Epub, Kindle and e-reader friendly PDF), visit our E-Books page on Smashwords.com by clicking on the respective icons. They are sure to stimulate your search for understanding. You can read book descriptions here. PLEASE NOTE: Our new books, starting with For The Bible Tells Me So will only be available on the download page of this website (pdf format).
---
HOW ACCURATE AM I READING THE BIBLE?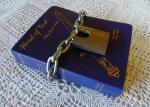 The fact that the books in the Bible were written by some 40 writers over a period of approximately 1400 years many centuries ago and on three continents seems to have been lost completely along the way. Add to that the errors and consequently also differences found in Bible translations.
Lately, the fact that we so often even err in our reading of the translations, has been turning around and around in my mind. This short article is the result and I only hope that it will stimulate every reader to focus anew on what the written word is really stating – and I am not referring to obvious twisting of Scripture portions. Also, I will simply be pointing out discrepancies and not enter into deep theological discussions, as that is not the purpose of this little article. Click here to read the full article.
DEUTERONOMY 23:3-4 UNDERSTOOD WITHIN PROPER CONTEXT
The 'born out of wedlock' topic
When I studied Biblical Counselling some two decades ago, one of the topics we were taught described the "Biblical fact" that Deuteronomy 23:3 described someone who was born out of wedlock, the so-called illegitimate birth. The Amplified Bible uses the terminology "conceived out of wedlock," while the Holman Christian Standard, among others, renders it "one of illegitimate birth."
The teaching then underlined the need for the counsellor to pray a deliverance prayer over such a person in order to break this "generational curse." Popular seminars (and let me underline, some are largely wonderful seminars) I attended and even went on to minister to others, often included this same teaching and actions. The preceding explanation to a counselee (or seminar attendee) in this regard would be based on the saving grace and atonement that came with Jesus Christ and his sacrifice on the cross.
Sadly, many people have been hurt emotionally and spiritually by this erroneous teaching. Click here to read the full article.
---
THE QUEST FOR FORGIVENESS
There have been many times when Martie and I were brought to the place of forgiveness. Have you been there this year? Maybe further back in the past? But you certainly know the battle it can sometimes be, can't you? Often we hear someone say, "I'll forgive, but I won't forget!" Where precisely does that bring us in terms of Jesus' forgiveness command (Mat. 6:14, 15)?
I regularly consult Jewish web pages to learn aspects of the Jewish culture in biblical times so that I might properly understand what has been written in the Bible. Some ten years ago I came across a Jewish essay on forgiveness and it certainly enlightened my understanding. Click here to read to full article
---
THE YOUNG CHURCH OF THE BIBLE
According to Acts 2:42-47, the young church
continued in the apostels' doctrine (and therefore received regular teaching);
prayed together;
broke bread from house to house (participated in the Lord's table or communion);
cared for the needs of all among themselves; and
faithfully attended the worship activities in the temple.
The first four functions above all seem to relate to what could be described as a function of caring in different ways for those who were members of the house churches. The house church was clearly a fully functional church and its activities went beyond what is practised generally in modern home cells.
It is important to remember that these house churches remained the observable church for many decades. There were no separate church buildings for the congregations to meet in until the year 150 AD. As all the New Testament books were completed by the year 90 AD (probably even earlier), all the epistles would then have been written to house churches (Comiskey; 2003).
Scripture does not mention different congregations in a single city and this implies that there was only one local congregation in a city, made up of a number of house churches.
(This is an extract from a study assignment written in 2003 on the topic of SHEPHERDING. Click here to read to full article)
---
MANIFESTING THE BIBLICAL ECCLESIA
Near the bottom of this page you will find a link to the website of Peter and Rebekah Laue of Pagosa Springs in Colorado, USA. I received the following email from Peter on 18 November and gladly share it with you as it is a wonderful example of how a person diagnosed with schizophrenia can overcome the knowledge and biases of the world through the working of the Holy Spirit:
"Dear, dear friend Gerrie,
I live with a global perspective. I wished everyone did. I invite you to join me. What is that perspective: One Soul is more valuable, more precious than the whole world.
I have been looking for that one soul amongst what the world calls "The Crazies." I have been looking for that gold amongst those the world has categorized and labeled as "the mentally ill". These people have an incredible potential for good or evil, for self or for service to humanity. They are the hidden and potential world changers.
Since I was labeled as one of them, I know what it feels like to live under the shadow of that label. I know what I am talking about. I write these words because my heart is filled with compassion and zeal to find that "One Soul." Would you like to help me? Would you like to go on a treasure hunt with me?
I found a person who also lives with a global perspective. He lives in Capetown, South Africa. In fact, I found several people who live there. I would like you to meet one of them and help me cheer for him and scatter his testimony far and wide. Click on the title of his story.
Schizophrenia –
My Journey Through Hell
---
HELL - A CENTURIES OLD FALSE TEACHING
I grew up with this terrifying concept of the hell, a place of eternal torment. You either believed in Jesus the Christ, or you would go to this fiery hell to burn forever. Preaching, whether formal in the church or informal in discussions between people, often took on the form of turn or burn statements. The visual media also confronted us increasingly with pictures of this awful place of ever burning lava. Whenever we encountered the word 'hell' in the Bible, this was the image we saw. Bible translations continued to lead us along this way.

Continue reading.
---
FOUNDATIONAL UNDERSTANDING OF THE BIBLICAL RECORD (With improvements)

We believe that there is one true and living God, Elohim Yahwe (or Yahweh). He is the self-existent One, who has no beginning and no end. By Him was the heavens and the earth created and man was made in His image - a living soul.
God has revealed himself progressively in the scriptures we know as the Bible. It is a collection of 66 books, written by approximately 40 writers, over a period of approximately 1500 years, in three languages and on 3 continents, and yet it forms an amazing whole. We believe it is God's communication with humanity in different ways.
Continue reading.
---
KNOWLEDGE- THE BIBLICAL CONCEPT
In the previous post we analysed the biblical concept of truth. One can say that truth is the way, knowledge the destination. This destination will depend on the way we choose.
There are even more different nuances in the Bible of the concept of knowledge than there are of truth. What I wish to underline, is that the verb ginosko is often used in the New Testament to refer to a relationship between the one who "knows" and that which is "known". It is used in this sense to refer to God's knowledge of a person:
"But the man who loves God is known by God." (1 Cor 8:3)

"But now that you know God – or rather are known by God – how is it that you are turning back to those weak and miserable principles? (Gal 4:9)
This knowledge that God has of a person really carries the meaning that God approves him.
The fact that it has a relational foundation indicates an activity or action that is continually taking place.

Continue reading...
---
TRUTH - THE BIBLICAL CONCEPT
Hebrew and Greek are very descriptive languages. They provide for subtle differences of meaning, which are not easily translated into English, for example, with single words or even simple sentences. Words like agape and phileo, which are simply translated into English as love although their true meanings differ, are good examples. The same can be said of the words truth and knowledge and it makes finding a simple definition of such a word difficult. Because these two terms are of specific importance, however, it is necessary to distinguish between certain subtle differences as well as we can, without becoming too technical in the process.
Truth is used in two broad senses in the Old Testament. Continue reading...
---
DOES TRUTH MATTER?
(Excerpts from the Preface of Gerrie's book The Lamp Of The Lord)
Scripture sounds warning after warning that one should rightly divide the word of truth (2 Tim 2:15). If we continue teaching doctrines that are rooted in wrong understanding or interpretation, however sincere the heart may be, where do we draw the line? What measure of deviance from the accurate truth would be tolerable or acceptable and what not? Using biblical terminology does not make something biblically accurate. One survey in the United States of America found 82 percent of Americans thought "God helps those that help themselves" was a Bible verse, which made it the 'best known verse in the Bible' (Mohler, 2004). It is sad testimony to realise that there really is no such verse in the Bible. Continue reading...
---
THE FRUIT OF THE CROSS
This post flowed forth from past notes in my journal:
11 April 2000
The congregation we were members of at the time, had been characterised by a spirit of division and confusion over the preceding few weeks. Our pastor had been given a video entitled The Hiss of the Serpent, which was radically and very expressively critical about prominent ministries in the USA. The pastor's preaching changed direction so drastically from one Sunday to next, that there was an immediate drop of more than two thirds in service attendances. There was also an immediate decline in the children's ministry and its effective closure followed soon. Continue reading...
---
THE FRUIT OF THE SPIRIT
We know there are many who will disagree, but based on a careful study of the evidence, we believe that Paul wrote his letter to the Galatians in AD49. It was his first Epistle and was written not only to one local group of people, but to believers in a large Roman province reaching from north to south (in the centre of what is modern Turkey). Only one New Testament book was written before Galatians, and that book is the Epistle of James (which was written in AD45). The letter to the Galatians is a strong address to those who were still trying to hold on to the Mosaic law. Then, it is the letter bringing the message of God's grace. We can safely say that it addressed the transition from the Mosaic dispensation to the Messianic dispensation.

Continue reading...
---
Stretcher Bearers For Christ

Peter and Rebekah Laue of Pagosa Springs, Colorado in the United States of America, have a passion for the hurting and have established a beautiful service of the heart for such people. While he pours out the love of the Lord through the conveying of true and inspiring stories, she does the same through her inspirational art. We gladly and lovingly place this link to their website on our homepage.
Please visit them
and let your spirit share in their compassionate love for the mentally hurting.
---